Image by Kim Durham Photography 
Welcome To The Coleman Vault In




Marionville's Historic Downtown
Located in what was once the Historic Bank of Marionville (owned by the prominent Coleman family), The Coleman Vault offers a stress-free venue for all your event needs. Not only do we offer venue space, but we also have a rental "vault" option overflowing with everything you need to make your event a success, if that wasn't enough, we even have a HUGE list of vendors our clients love we are always willing to share to help ease the stress of planning.

Our goal is to provide the community with an affordable venue that won't break the bank all while promoting a long-forgotten downtown. 



Our mission is simple- Save as much local history as possible, renovate our long forgotten downtown and save some wedding budgets in the process!  Can you imagine where funds can be redirected if you save THOUSANDS on your venue!?! Couples shouldn't have to go into debt to start a life together! The money saved could buy a car, furnish a home or even put a down payment on a HOUSE! 



Guess what!?... YOU can help! Whether it is booking an event, helping us work on our buildings next door (link in "our mission" tab) or participating/volunteering at any of our community events like our Annual Trunk or Treat and Car Show every October, your support is VERY much appreciated whether you realize it or not!
Schedule a tour today!
Follow our progress next door on our other facebook page:
The Marionville Market Street Pang Wangle
 
You'll love the nostalgic architecture and shabby meets chic style of the Coleman Vault! The restored historic building is fully equipped with two bridal suites, a commercial kitchen, and space for up to 150 guests. You won't have to go far for amazing photo opportunities too as our old brick walls and vault doors are a local favorite!
Make your wedding memories come alive again by renewing your vows or perhaps announcing your engagement at the nostalgic Coleman Vault.
We would love to host your special event! The Coleman Vault provides the perfect gathering place for birthday parties, banquets, baby showers, dances, and more!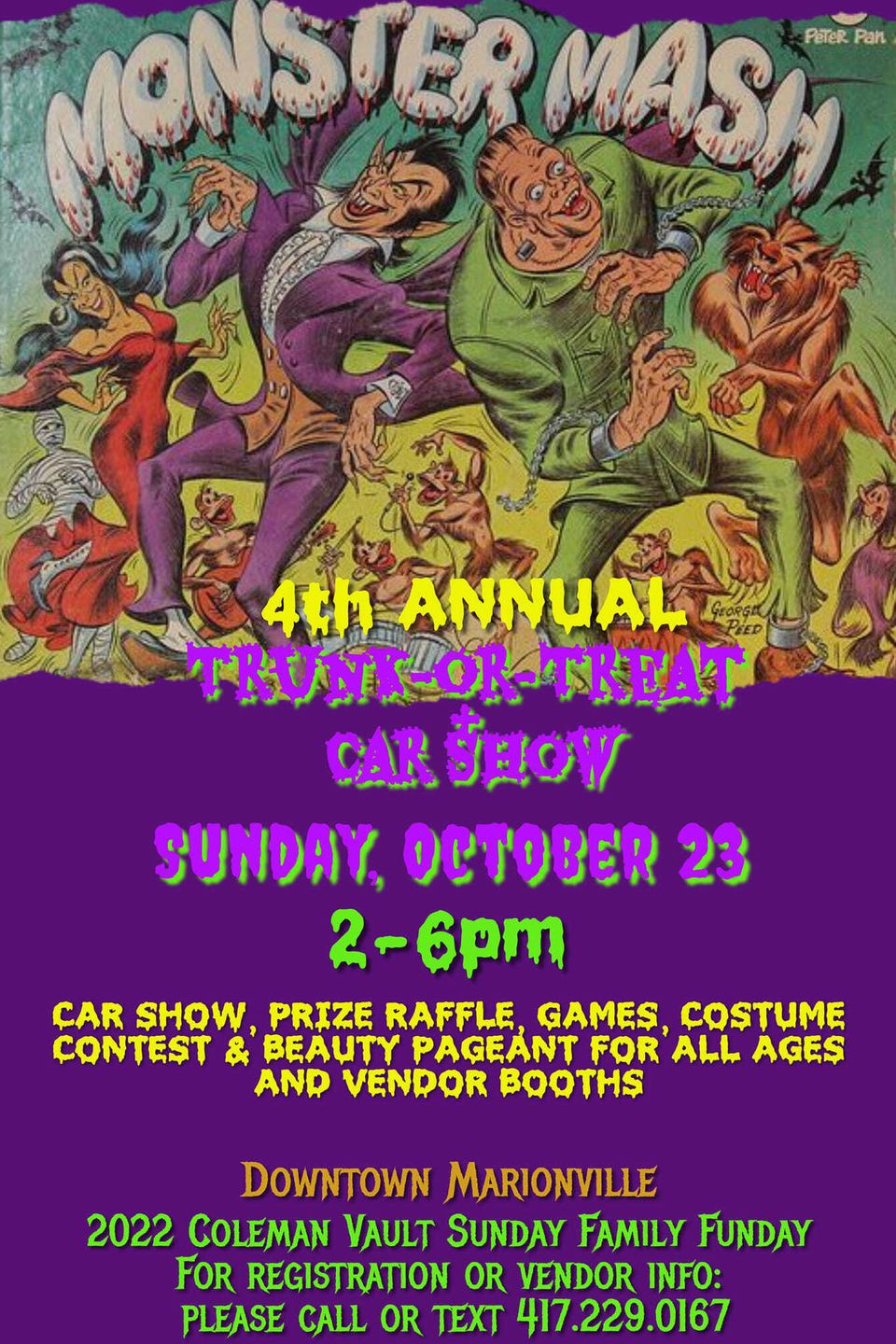 The Coleman Vault's 4th Annual


Trunk-Or-Treat & Car Show!
The Coleman Vault Family Funday is basically a giant family friendly Halloween festival for all ages as well as tons of great food, vendor shopping, and a car show! Our goal is to eventually raise enough money with our Trunk-Or-Treat and other events to revitalize the long forgotten historic downtown of Marionville. In 2021, we added the beauty pageant and pin up contest as well. Hope to see you all there!
Trunk-Or-Treat
Food Trucks
Raffles & Prizes
Costumes
Local Vendors
Fun for All Ages!

Address:
101 North Market Avenue
Marionville, MO 65705
Why Go Anywhere Else?




The Coleman Vault Has It All

 
Whether you're getting married, celebrating the life of a loved one, announcing a new baby, or hosting a banquet, The Coleman Vault has everything you need including two bridal suites, a fully equipped commercial kitchen, and a variety of unique photo opportunities. Ask about adding access to extras we keep in the vault.
Image by Smudges Photography
Background Image by Abbey Laine Photography